We will leave it up to the reader to determine whether

Senator Shelby

has made serious errors in in judgment.

He

has

always

supported a Conservative Far Right Christian position especially when it comes to Church and State issues. It is apparent from the data collected, that the first amendment may be in danger from his past and future actions as well as other constitutional sections. He has supported deregulation of banks and the SEC causing the current economic Depression.
Senator Shelby's office stated that his position is that Certain Religions aren't "Real" religions. What is a real religion, Mr. Shelby? What you have been practicing? He says on the one hand that only certain Christian denominations are valid. Read the following and remember: "By their Works may they be known." This is a summary of information collected from several sources about Senator Shelby.
(Remember it is best to investigate on your own when looking at allegations about anyone. Don't believe us, think for yourself and investigate for yourself! And remember, the First Amendment Coalition and Religious Freedom Coalition of the South East do not represent any political party nor do we recommend any political candidate, nor are we involving ourselves in the political process.)
---
THE TRUTH ABOUT REPUBLICANS BY GEORGE CARLIN
Audio only and of course NSFW. But Carlin has some opinions.
---
Shelby's Hold: 'Obstruction' Reaches A 'New Low'
Richard Shelby!
As you may have heard, is being what the kids on the street call "an intransigent dick." This is because he's placed a blanket hold on all of President Obama's nominations for no other reason than that he feels Obama hasn't shown sufficient respect to Alabama.
It is crazy that America cannot have judges or agency heads or, you know, a guy to head up the Transportation Safety Administration, just because the president didn't send flowers and wishes to Alabama, but that is basically what is happening.
Also? Remember that part of Obama's "Question Time" with the House GOP Caucus, when he said, "wasteful spending is usually spent somehow outside of your district," and quipped: "The spending in your district tends to seem pretty sensible." Well...
According to the report, Shelby is holding Obama's nominees hostage until a pair of lucrative programs that would send billions in taxpayer dollars to his home state get back on track. The two programs Shelby wants to move forward or else:

- A $40 billion contract to build air-to-air refueling tankers. From CongressDaily: "Northrop/EADS team would build the planes in Mobile, Ala., but has threatened to pull out of the competition unless the Air Force makes changes to a draft request for proposals." Federal Times offers more details on the tanker deal, and also confirms its connection to the hold.

- An improvised explosive device testing lab for the FBI. From CongressDaily: "[Shelby] is frustrated that the Obama administration won't build" the center, which Shelby earmarked $45 million for in 2008. The center is due to be based "at the Army's Redstone Arsenal."
At any rate, now Michael Keegan, president of People For The American Way, has weighed in with complaints about Shelby:
"Senator Shelby's move is deeply cynical and an abuse of Senate procedure," said Michael B. Keegan, President of People For the American Way. "The American people deserve a functioning government, but Senator Shelby would rather hobble important agencies that keep us safe and provide important services than risk losing some pork barrel projects for his own state. Conservative commentators have slammed Democrats negotiating deals that pale in comparison to this. I hope they'll be aggressive in pointing out Senator Shelby's behavior, but I'm not holding my breath."

Senator Shelby is angry about the Pentagon's bidding process for air-to-air refueling tankers and funding for a research center to be built in his state. His hold effectively blocks votes on more than 70 executive branch nominees, including officials in the Army, Air Force, Department of Defense, Department of Homeland Security, Department of Justice and Department of State.

"To block votes on U.S. Attorneys, key positions in the armed forces, and nominees tasked with overseeing the disposal of radioactive waste in order to wring a few more dollars from the federal government in dangerously irresponsible," said Keegan. "Senator Shelby is doing an immense disservice to all Americans, including his own constituents. When voters voice their anger about the gridlock and partisanship in Washington, this is exactly what they're talking about."
Keegan went on to say that Shelby "better watch out" because "Carly Fiorina's sheep may want to have a few words with him."
---
Senator
Shelby and the Republican Party Supports Rape by Defense Contractors!!!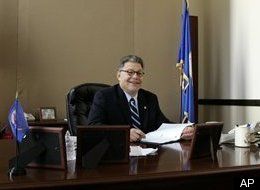 I think that all homo sapiens can understand how the mere thought of an organization that receives government money through contract mechanisms being tangentially involved in setting up a fake tax shelter for a fake pimp and his fake prostitution ring of fake prostitutes can justifiably lead to lawmakers going absolutely cross-eyed with white-hot, impotent rage. But what happens when a similarly taxpayer-endowed contractor attempts to cover up employee-on-employee gang rape by locking up the victim in a shipping container without food and water and threatening her with reprisals if she report the incident? Somehow, it doesn't engender the same level of anger!
30 misogynist Republicans in the U.S. Senate are totally OK with rape, at least where women are concerned. Predictably in yet another routine attempt to serve their corporate masters, (this time the GOP stood by Halliburton) Republicans voted against women and for corporate contempt of rape victims.
Some Republican senators are taking heat for voting against an amendment that would allow employees of military contractors to sue their employers if they are raped at work -- and they want the Democratic senator who wrote the amendment to help them fight off the bad publicity.

In October, 30 Republicans voted against Sen. Al Franken's amendment to a defense appropriations bill that would de-fund contractors who prevent their employees from suing if they are raped by co-workers. Since then, those Republicans have faced outrage for what critics say amounts to support for rape.
Instead of standing up to take responsibility for or clarifying their disgraceful votes, Republican cowards are instead attacking Al Franken, blaming him for their votes.
Sen. John Cornyn (R-TX) accused Franken exploiting the story of Jamie Leigh Jones -- a former KBR employee who says she was locked in a container in Iraq after alleging she was raped by co-workers -- to further his political agenda.

"Trying to tap into the natural sympathy that we have for this victim of this rape --and use that as a justification to frankly misrepresent and embarrass his colleagues, I don't think it's a very constructive thing," Sen. John Cornyn (R-Texas) said in an interview.
I guess Franken held a sledge hammer over Cornyn's head and said if he did not vote against the anti-rape amendment Franken would crack it over his head.
What shameless cowards.
To summarize the Republican position: As women, we are not "average Americans," and gang rape is not a "serious" issue. As women, no matter how powerful we become on our own merits, the Republican establishment will still be hoping for a man to come along and put us in our place.
Not every Republican signs onto these views -- indeed, 10 Senate Republicans voted for the Franken amendment, giving the lie to the NRSC's claim of partisanship -- but this is the undercurrent of the party's policies. This is what they're hoping to get voters to overlook when they run a Sarah Palin or a Kelly Ayotte for office. This is why Bob McDonnell's campaign for Virginia governor has been such a popular campaign stop for 2012 prospects: because of, not despite, his opposition to marital contraception and women in the workplace. This is why David Vitter (who voted against the Franken amendment) is still a senator in good standing with the party of alleged sexual morality.
You don't have to go very far beneath the Republican surface claims of equality-but-not-really to get to the rock-bottom sense that women just don't count, that our rights and our wellbeing are always subordinate to whatever interest of men they might conflict with. When it comes to it, even the (themselves sexist) notions of chivalry and protecting women come behind protecting the right of corporations to imprison their female employees to shield their male employees from rape charges and still get government contracts.
Credit new Senator Al Franken however, for
introducing an amendment to the Defense Appropriations bill that would punish contractors if they "restrict their employees from taking workplace sexual assault, battery and discrimination cases to court." You'd think that this would be a no-brainer, actually, but that didn't stop Jeff Sessions from labeling Franken's effort a "political attack directed at Halliburton." Franken, of course, pointed out that his amendment would apply broadly, to all contractors, because otherwise, 'twould be a bill of attainder, right? Right?
Franken's amendment ended up passing, 68-30. Here's a list of the Senators who showed broad support for Rapists and Pedophiles by voting against it: (Click on their names to find out more about them).
Read more at: http://www.huffingtonpost.com/2009/10/07/meet-the-senators-who-vot_n_312976.html